We are back with Nightlifers – "On The Horizon" page three. This time we see things grow more complicated as Tito's fathers stumble into the attempted water theft. What is a son to do?
This page was written by Deft Beck, illustrated by Footfoxxy (NSFW Twitter), and colored by me.
Be sure to check out last week's Cosmic Dash update if you missed it. That was page number 380 for the record.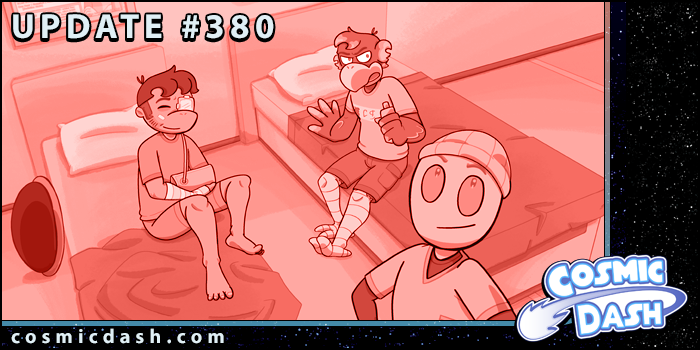 Water Theft
In the last update, I wrote a bit about the ongoing water crisis on Blassna, which is more noticeable to some than others. Mostly you are in the know based on how affected you are by water rationing and the ongoing drought. For most citizens, that line can be drawn whether you live in the canyon or above the canyon that the city was built around and within.
The lower city, built into the canyon and among the oldest places of civilization of Blassna, can also be the most dangerous part of the Imperial City. Gangs and crime run rampant in the shade of the city's lower area, and most of the money and programs to beautify and help the city tend to be routed to the upper sections of Southtown, Uptown, and the Lake District. As far as the roughest places in the city go, you're looking at The Drag and The Narrows, and Nicor's Noodles just happens to be in The Drag, which is one of the oldest districts of the common folk.
This map should help.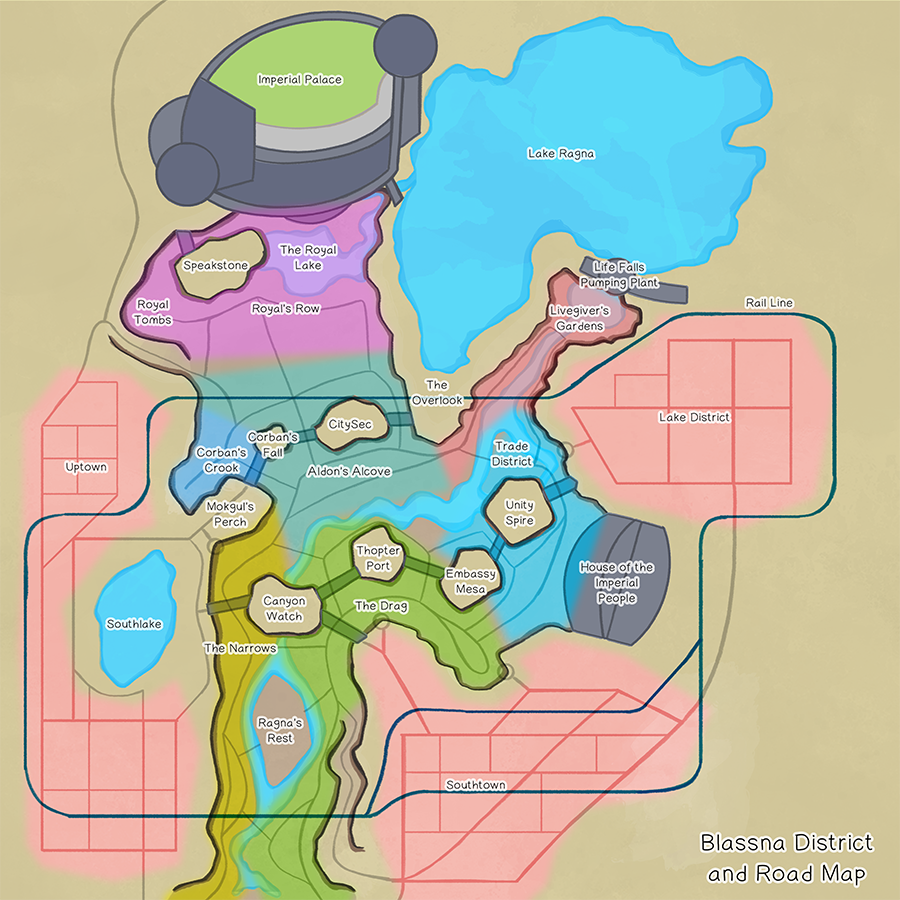 More on Blassna in the next update.
Nightlifers – On The Horizon – Page 3 Transcript
This is the transcript for Nightlifers. "On The Horizon," page 3.
Panel One
The water thief has Tito Nicor in the air by his shirt. Henke is approaching, ready to punch the thief.
Caption (Tito): "Henke tried to help…"
Panel Two
The thief catches Henke in the side with a kick to his ribs.
Henke: "Oof~!"
Panel Three
In the commotion, Otto and Ray Nicor, Tito's parents, emerge from the restaurant.
Otto: "Tito, the hell's going on out here?!"
Tito (OS): "Dad, stay back!!"
Panel Four
The water thief turns his attention to the older gentlemen and points his sword toward them.
Thief: "Don't move!"
Panel Five
The sword is right in Otto's face.
Panel Six
Tito wiggles free and manages to kick the thief in the face.
Panel Seven
Tito slams the thief to the floor, his bulk cracking the sidewalk.
---
If you want to spread the word about the comic, a vote on Top Webcomics really helps! See you next week at CosmicDash.com for a new page over there!