We're back with an update to Silver Spiral Stories, moving toward the end of this Nightlifers story. This story was written by Deft Beck with illustrations by Footfoxxy (NSFW Twitter) and colored by myself.
On the last page, Tito seemed to fend off the attempted water theft; this week, he reflects on how close the situation was. We also weigh in a bit on canyon life on Blassna.
Check out last week's Cosmic Dash update if you missed it. That was page number 381.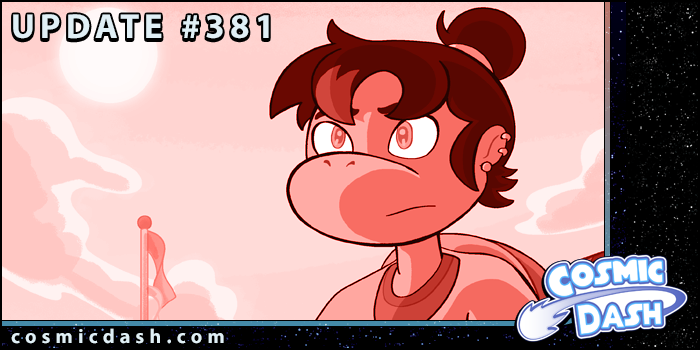 Canyon Life
Living in the canyon of the Imperial City can be a tough life. Despite the relative protection from the heat afforded by the canyon, it can also be very crowded. The canyon is sometimes seen as a slum. It comprises the canyon itself and the old housing and tunnels carved into the canyon walls, creating a portion of the underground city featuring utility tunnels, old warehousing, and some dangerous areas.
It's not rare to purchase a home in the canyon and discover a hidden or covered door to the tunnels, and most businesses take advantage of some of these sections for storage. This is something we can see on this page as Henke is loading the water tank into one of these spaces.
Nightlifers – On The Horizon – Page 4 Transcript
This is the transcript for Nightlifers. "On The Horizon," page 4.
Panel One
Ray looks shocked at Tito, who is dusting himself off.
Ray: "Tito! Are you okay?"
Tito: "I'm okay, Ray."
Panel Two
Tito is helping Henke to his feet.
Henke: "You took out that guy pretty fast…"
Panel Three
All four men have gathered together.
Tito: "No thanks to Otto's distraction."
Otto: "Guess it's better than getting shot."
Panel Four
Henke is loading the water tank into storage along with Otto and Ray. Tito stands nearby, keeping an eye out.
Tito (Caption): "We didn't see any of that coming."
Tito (Caption): "One wrong move and I could've died."
---
If you want to spread the word about the comic, a vote on Top Webcomics really helps! See you next week at CosmicDash.com for a new page over there!